Microsoft 365 Copilot, a comprehensive guide - Updated
Trending facts about M365 Copilot
Microsoft 365 Copilot is available to Enterprise customers since November 1st, 2023. Smaller customers will have to wait longer.
M365 Copilot is integrated with other Microsoft 365 apps. In addition to Word, Excel, PowerPoint, and Outlook, Copilot is also integrated with Teams, SharePoint, and for instance Dynamics 365. This makes it easier for users to use Copilot across all of their Microsoft 365 apps and services.
The price is set at $30 per user per month with a minimum requirement of 300 user licenses to license this in an Enterprise Agreement. This means a minimum investment of $108,000 per year.
Room for negotiation for Enterprise Agreement clients through Volume Licensing Discounts – we'll need to wait and see if this is true and how Microsoft positions itself in this regard.
It is an additional add-on license, not included in M365 suites. It is not mandatory.
What is Microsoft 365 Copilot?
Microsoft 365 Copilot is an AI-powered productivity tool that uses large language models (LLMs) and integrates your data with the Microsoft Graph and Microsoft 365 apps and services.
It works alongside popular Microsoft 365 apps such as Word, Excel, PowerPoint, Outlook, Teams, and (eventually) many others.
What are LLMs?
Large Language Models (LLMs) are a type of AI model that can understand natural language text and generate human-like responses. Copilot uses LLMs to provide real-time intelligent assistance to users while they work on a document. It can help users with tasks such as text content creation, comprehension, and more.
When you use Copilot, it analyzes the text you're working on and provides suggestions based on the context. For example, if you're writing an email, Copilot can suggest phrases to use based on the content of the email.
If you're working on a report, Copilot can help you summarize data or suggest charts to visualize your data. M365 Copilot can even create documents from certain inputs, such as for instance a dataset that you need to report on. After giving the dataset as input, Copilot is able to generate a full PowerPoint presentation that summarizes the data.
Who is M365 Copilot for?
Microsoft 365 Copilot is aimed at a wide range of users, including writers, editors, content creators, developers, business professionals and frontline workers. Copilot can help professionals with a range of tasks and is aimed at anyone looking to be more productive and efficient. 
Copilot can generate text, translate languages, and write different kinds of creative content more quickly and efficiently. It can generate code, write reports, training materials and correspondence.
Prerequisites for M365 Copilot:
The requirements are currently listed as:
M365 E3 or E5 license
M365 Apps for Enterprise
Entra ID accounts
Microsoft OneDrive (not mandatory)
Microsoft Outlook (you need to be on the "new Outlook")
Microsoft Teams
Microsoft Loop (not mandatory)
Current Channel or Monthly Enterprise Channel
Alignment to M365 Network connectivity principles 
An example of how Copilot can be used:
Content creator looking for ideas for blog posts
Editor checking a text for grammar and spelling mistakes
Developer needing snippets of code
Account manager looking for inspiration for a presentation
When will M365 Copilot be available?
Microsoft 365 Copilot will initially only be available for Microsoft Enterprise customers from November 1st, 2023.
The reason given for this is that Copilot is still under development, and Microsoft wants to ensure that it is reliable and secure before roller it out further. Microsoft wants to collect feedback from Enterprise customers and use it to improve Copilot before making it available to a wider audience.
Larger Enterprise customers are also more likely to have the infrastructure and resources in place to support Copilot, such as strong security and compliance measures.
What about smaller organizations?
Microsoft plans to make Copilot available to other customers, such as small businesses and consumers, in the future. But they have not yet announced a timeline for this, just expressed a "commitment to making it available to a wider audience asap".
If you are a smaller organization that wants to benefit from these Generative AI Services, you can start with Bing Chat (Enterprise).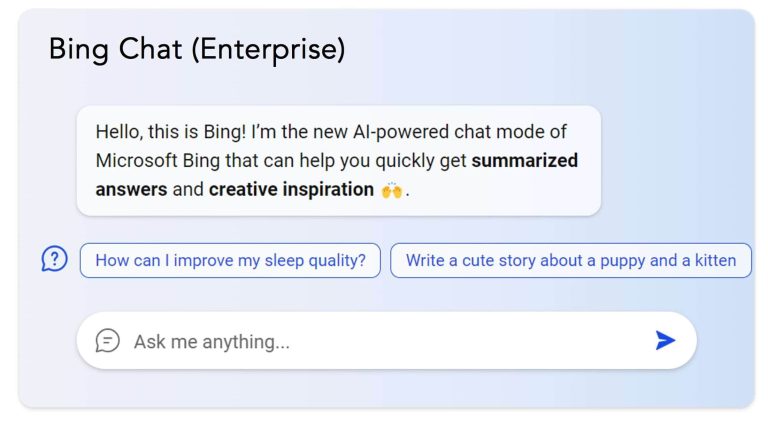 How to license M365 Copilot?
At the time of writing this article not a lot is known yet the licensing model for M365 Copilot.
What we do know so far:
It is an add-on license op top of your M365 portfolio – so a customer needs either an M365 E3 or an M365 E5 license in order to be able to use this add-on
No need to license all your users. Microsoft 365 Copilot is not a mandatory add-on for Microsoft 365. You can choose to deploy it to only the users who would benefit the most from it. For example, you might deploy Copilot to writers, editors, and other content creators.
Use Azure Active Directory Premium (Entra ID) in order to fully use the M365 Copilot service.
You must be on the Current Channel or the Monthly Enterprise Channel for Microsoft 365 apps (see here if you are unfamiliar with these)
Once you understand the requirements, it is also important to understand how to manage them. Management is done simply from the Microsoft 365 Admin Center. Here you are able to assign licenses to your users, however you might prefer to assign them through Azure AD Group Membership or the PowerShell options that you might be familiar with.
Cost of Microsoft 365 Copilot?
Microsoft 365 Copilot will be available for commercial customers for $30 per user per month. This is a significant price tag, but it's important to remember that Copilot is a premium add-on with substantial benefits.
In order to understand if this is worth it for your intended employees, you need to look at the efficiency gains. Many organizations can potentially benefit from this tool and it can save them a lot of time generating material, finding the right content and a range of other tasks. Our advice is to calculate to see if Copilot makes sense for you.
Pricing Copilot
As we said, Microsoft 365 Copilot will be priced as a paid add-on to Microsoft 365. The price will be $30 per user per month, regardless of the underlying Microsoft 365 license.
This price will be the same for all users, regardless of job role or title. Organizations need to carefully consider which users need Copilot and if Copilot is the right tool for their organization before purchasing.
Cost impact
As Copilot is an add-on, Copilot is an additional expense for all organizations, regardless of their current licensing. Microsoft 365 E3 or E5, M365 Business Premium or Standard – everyone will pay the same price. This means that the relative increase in cost will vary depending on your current licensing. For example, if you license every user with Copilot, your Microsoft 365 licensing budget will increase by:
There might be room for negotiation for Enterprise customers through Volume Licensing, including this in your Enterprise Agreement or setting up an Microsoft Customer Agreement might make sense here!
Organizations interested in including this in their EA should contact a Microsoft account representative – or seek the help of licensing experts such as LicenseQ.
How to avoid high costs & overspending
There are a number of things you can do to plan for the cost of Microsoft 365 Copilot and to avoid overspending. Here are a few tips:
Start small: Deploy Copilot to a small pilot group of users before rolling it out to your entire organization. This will help you to assess the benefits and costs of the tool before making a large investment. At the moment this is not easy, as there is no information on contractual vehicles that allow for small purchases. The only offer as of Nov 1st is a 300-seat minimum in EA/EAS or MCA-E.
Track your usage: Use Microsoft's reporting tools, like Nebula tool Optimize, to track if Copilot is actively being used in your organization and what benefits it is providing. This will help you to justify the cost of the tool to your management team.
Talk to licensing experts: They can help analyze your current and future needs, and help you procure accordingly. Check out our services page for more info on how we can help.
What are the benefits of Copilot?
It can be difficult to estimate the ROI of Microsoft 365 CoPilot, as the benefits will vary depending on how you use it.
However, some potential benefits to consider include:
Increased productivity – users more productive by 10%, this could lead to a significant increase in revenue.
Improved accuracy – employees produce more accurate work by 5%, this could reduce costs associated with errors.
Reduced costs – eliminate the need for manual tasks such as writing and editing, this could save a significant amount of time and money.
Enhanced creativity – users more creative, leading to new products, services, and ideas.
Security, privacy and data residency
Microsoft says Copilot is built with the same security, privacy and data residency principles that they use for all their products. A user's data is not used as such to train any AI models and M365 Copilot can only use your data for your own purposes. When you input prompts using M365 Copilot, the information contained within these prompts, the data they retrieve and the generated responses remain within the Microsoft 365 service boundary.
M365 Copilot uses Azure OpenAI services for processing, not OpenAI's publicly available services. Azure OpenAI is hosted in the Microsoft datacentre (and it routes you to the nearest one you have your tenant set up in).
There has been a big update to the Product Terms on Generative AI services this month. In the data residency section of the documentation Microsoft states: "For European Union (EU) users, we have additional safeguards to comply with the EU Data Boundary. EU traffic stays within the EU Data Boundary while worldwide traffic can be sent to the EU and other countries or regions for LLM processing."

Microsoft ensures security and data protection for Microsoft 365 Copilot users through a number of measures, including:
Encryption
All data that is processed by Copilot is encrypted in transit and at rest. This means that data is protected from unauthorized access, even if a Copilot server is compromised. Copilot uses Azure Key Vault to store encryption keys. Azure Key Vault is a highly secure key management service that is used by many government agencies and financial institutions.
Access control
Copilot is only accessible to authorized users. Microsoft uses a variety of techniques to control access to Copilot, including user authentication, role-based access control, and least privilege access. Copilot uses Azure Active Directory (AAD) for user authentication and authorization. AAD is a secure and scalable authentication and authorization service that is used by millions of organizations around the world.
Security monitoring
Microsoft monitors and scans Copilot servers and infrastructure for security threats and vulnerabilities on a regular basis. Microsoft also has a team of security experts who are responsible for investigating and responding to security incidents. It also uses a variety of other security measures to protect Copilot servers, such as firewalls and intrusion detection systems.
Data residency
Microsoft allows users to choose where their data is stored. This means that users can ensure that their data is stored in a location that meets their compliance and regulatory requirements. Though Microsoft still states that your data can move outside of your datacenter region. 
FAQs
How do I get Copilot in Microsoft 365 apps?
You can access Copilot in Microsoft 365 apps by subscribing to a Microsoft 365 plan that includes Copilot.
Is the content Copilot produces original?
Yes, the content produced by Copilot is original and not copied from any source. However, it may be similar to existing content on the internet.
Is Copilot the same as ChatGPT?
ChatGPT is an AI language model developed by OpenAI. Microsoft partnered with OpenAI to integrate ChatGPT into its products, incl. Copilot and Designer.
Does Copilot learn from my data?
Yes, Copilot learns from your data to improve its performance. However, it does not store or share your data with anyone else.
What is Microsoft 365 Copilot?
Microsoft 365 Copilot is an AI-powered assistant that can help users with a variety of tasks in Microsoft 365, such as writing, editing, translating, and generating code.
Who is Microsoft 365 Copilot for?
Microsoft 365 Copilot is for anyone who wants to be more productive and efficient with their work in Microsoft 365. This includes writers, editors, developers, business professionals, and frontline workers. Initially it will only be available to larger Enterprises, as of November 1st, 2023.
How does Microsoft 365 Copilot work?
Microsoft 365 Copilot uses a variety of AI techniques, including natural language processing and machine learning, to understand and respond to user requests. Copilot can generate text, translate languages, and write different kinds of creative content.
Is Microsoft 365 Copilot safe to use?
Yes, Microsoft 365 Copilot is safe to use. Microsoft has taken a number of steps to ensure the security and privacy of Copilot data, including encryption, access control, security monitoring, and data residency.
How much does Microsoft 365 Copilot cost?
Microsoft 365 Copilot will be available as a paid add-on to Microsoft 365. The price will be $30 per user per month.
When will Microsoft 365 Copilot be available?
M365 Copilot will be available for Microsoft Enterprise customers as of November 1st, 2023. There is no clear timeline yet for other (smaller) organizations.
More information
We hope this guide on everything we know so far about Microsoft 365 Copilot has been useful. Are you considering M365 Copilot for your Enterprise? Do reach out to us with any questions. The fast developments in AI are fascinating and we continue to follow developments closely. 
You can visit our website for more information or contact our licensing experts at info@licenseq.com.